Twin Cities Young Professionals Summit
Friday, October 13, 2023
Description

Join the Excitement at the Twin Cities Young Professionals Summit!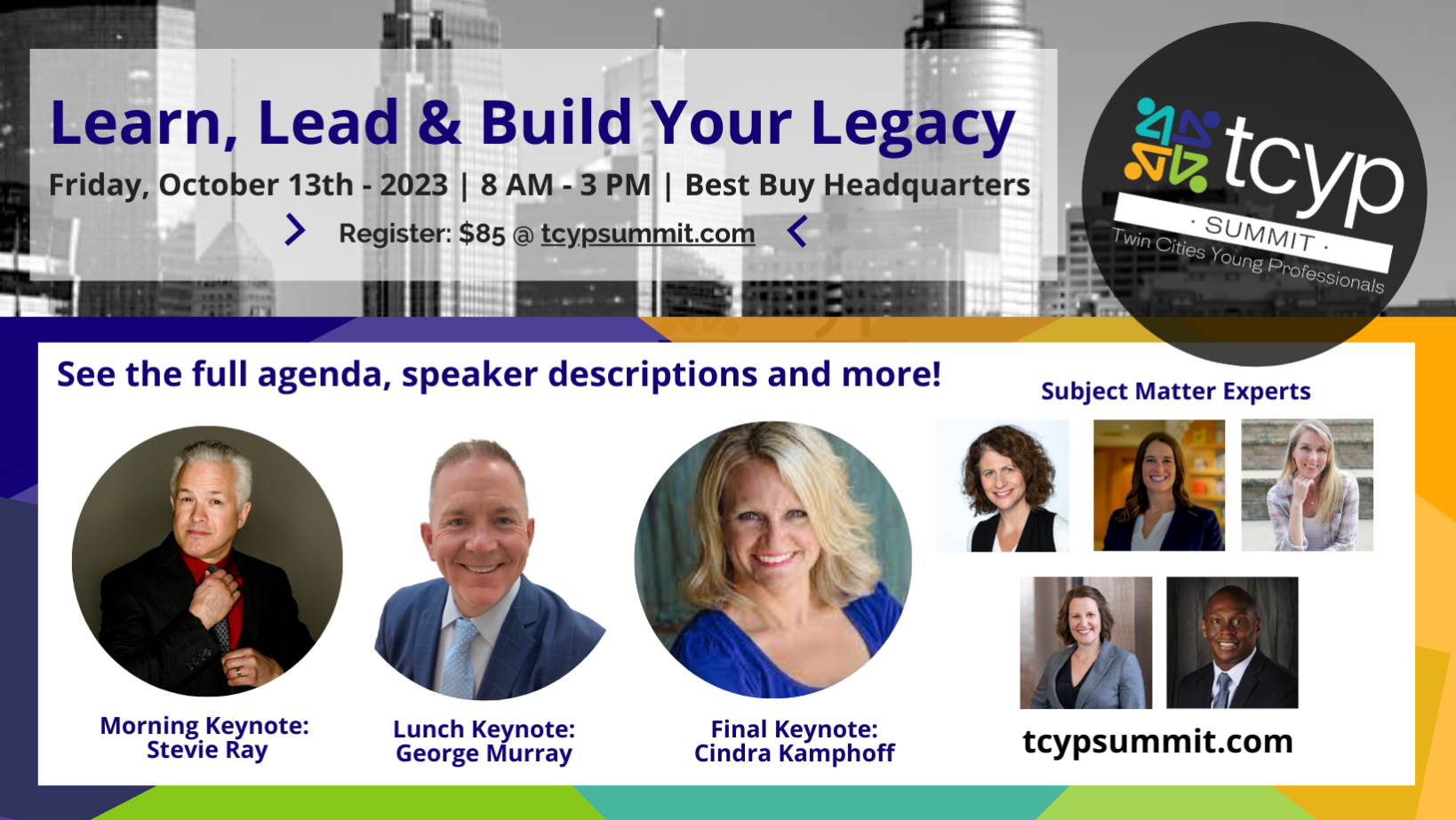 [Full agenda at: https://www.tcypsummit.com/]
Are you ready to elevate your career, expand your network, and embark on a journey of personal and professional growth like never before? Look no further than the Twin Cities Young Professionals Summit – the ultimate all-day conference that's set to redefine your professional path!

Where: Best Buy Headquarters

When: Friday, October 13th - 2023

Time: 8:00 AM - 3:00 PM

Why Attend?

Keynote Speakers: Get inspired by industry leaders who have scaled the heights of success. They'll share their invaluable insights, secrets, and stories that propelled them to the top.

Breakout Sessions: Dive deep into specialized topics that matter most to you! Choose from a wide array of workshops, each designed to hone your skills, from leadership and innovation to work-life balance and personal development.

Networking: Forge meaningful connections with fellow young professionals, mentors, and potential collaborators. The Summit is a melting pot of talent, and you never know who you might meet!

Learning: Elevate your knowledge and stay ahead of the curve with cutting-edge trends, emerging technologies, and industry best practices. Our sessions are curated to keep you at the forefront of your field.

Fun & Entertainment: We believe in the power of balance! Enjoy engaging activities, live entertainment, and a vibrant atmosphere that makes learning fun and memorable.

Career Advancement: Gain actionable strategies to climb the corporate ladder, launch your own business, or pursue your passion project. The Summit is your one-stop-shop for career acceleration.

Unleash Your Potential: Whether you're a fresh graduate looking to kickstart your career or a seasoned professional seeking fresh perspectives, this event is tailored to unlock your full potential.

Exclusive Perks: Attendees will receive exclusive access to resources, and opportunities that can supercharge your career and personal life.

Be Part of the Momentum: Don't miss this premier event that brings together the brightest minds, boldest innovators, and most ambitious young professionals in the Twin Cities. It's the perfect platform to ignite your ambitions and celebrate your journey to success!

Limited Tickets Available: Secure your spot now and be part of the next wave of leaders and visionaries!
Ready to seize the day, unlock your potential, and ignite your future? Join us at the Twin Cities Young Professionals Summit and be prepared to
#RiseUpTCYP
!
Visit
https://www.tcypsummit.com/
for more details and to reserve your spot. Don't just dream about success – make it a reality at the Summit!



Contact Information: For inquiries, sponsorship opportunities, or special requests, reach out to kirsten.barott@epchamber.org
Let's write your success story together at the Twin Cities Young Professionals Summit!


Best Buy

Event Contact
Pat MulQueeny