Nor-Son Custom Builders Wins Award for Extensive Remodel
NEWS RELEASE
For Immediate Release
NOR-SON CUSTOM BUILDERS WINS COVETED REMODELER OF MERIT AWARDSM
FROM HOUSING FIRST MINNESOTA
BAXTER, MN (NOVEMBER 8, 2023) – Nor-Son Custom Builders is proud to announce that the firm has earned a Remodeler of Merit Award (ROMA) from the Housing First Minnesota for its Entire House Remodel completed last fall 2022 in Edina, MN. Nor-Son Custom Builders earned one of the ROMAs presented during Housing First Minnesota's Building Industry Gala (BIG) Night on Oct. 27 at Mystic Lake Center.
Since 1982, Housing First Minnesota has presented the ROMAs to remodelers to recognize creativity, design, and the remodeler's ability to meet the client's requirements. Winners were selected by a team of remodeling professionals from the Builders Association of Sioux Falls, South Dakota after evaluating photographs, floor plans and descriptions of the remodeling project.
"Remodeling projects that earn a ROMA Award are truly exceptional," explained Housing First Minnesota CEO, James Vagle. "The remodeling professionals who review each entrant know that they're not just looking for the prettiest spaces – they take into account the challenges and customer wishes as they evaluate each project."
"We are so proud to earn this honor," said Andy Anderson, President & CEO of Nor-Son Custom Builders. "There are so many individuals that put their hearts and souls into creating amazing spaces for our clients, and winning a ROMA award is an outstanding achievement."
The project awarded was for an entire house remodel in Edina, MN. The clients wanted to make updates to their home originally built in 2005 to make it more modern and elegant. On the main level, an angled stairwell was in the center of the floor plan separating the front foyer from the kitchen. The stairs jutted into the kitchen taking up valuable space. To create a more prominent view from the foyer and provide more cabinetry space in the kitchen, the stairwell was redesigned to eliminate the angle, and modify the structural wall that separated the kitchen and foyer. The ceiling was opened to install structural beams that transferred the load to the basement. This not only provided the look of an open staircase, but also provided an additional 30 square feet to the master closet above.
Other details included a complete renovation of the master suite, adding a fireplace in the bedroom, custom built-ins, and building a half wall with glass panels in the bath to create a better distinction between the shower and new soaking tub. A lower-level Scottish pub style bar was renovated into a sleek modern look by painting cabinetry in black enamel and replacing with an open, extended bar. All existing trim in the lower level was painted in black to match.
"I am so proud of our team," said Matt Holmstrom, Senior Vice President of Nor-Son Custom Builders. "They navigated through this extensive remodel beautifully to create a home our clients love. It's very rewarding."
Nor-Son Custom Builders was founded in 1978 and is a premier custom home builder with offices in Eden Prairie and Baxter, MN. The firm specializes in high-end custom homes and extensive renovations.
You can learn more about the company at their website, www.Nor-SonCustomBuilders.com.
#####
Before and after photos:

Nor-Son ROMA Award Images
More photos available upon request.
Team Photo Caption (left to right): Neil Ebbenga, General Superintendent; Pat Schumacher, Senior Project Manager; Nick Stastny, Project Manager; Andy Anderson, President & CEO; Matt Holmstrom, Senior Vice President; Nicole Anderson, Director of Social Media; Eddie Near, Director of Project Development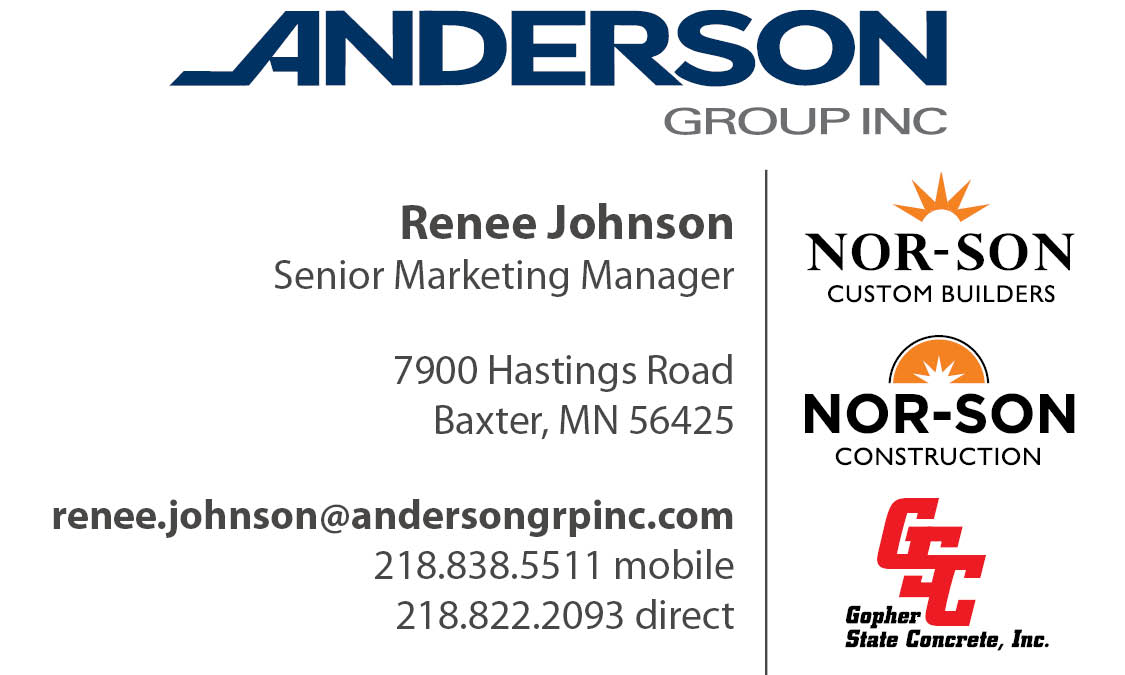 Images
Additional Info
Media Contact : Renee Johnson